World Class Teacher. Local Inspiration.
Kim Doyle is an inspiration because she has overcome severe physical and mental illness to become a fully embodied Goddess of Yoga, Healing, Mountain Biking, and Ski-Biking.

Kim entered the world with many obstacles to overcome; she required a full blood transfusion, her left leg was bent backwards, and she had a tumor in her ear. She was raised on medicine, doctors appointments, hearing aids, allergy shots, surgeries, and way too much Ritalin. She was further tested by surviving divorce, abuse, rape, pregnancy and abortion. Despite all of these traumas, she found her way to Yoga. Her Grandmother, Omie, a German Refugee from WWII, who lost her entire family at 19, was a Yoga Teacher for 40 years. Omie gifted Kim with the desire to study Yoga. While Kim began yoga to heal her body, she quickly discovered that yoga heals many other aspects of wellness; healing her socially, mentally, emotionally and spiritually. Basically, yoga saved her life.

This holistic wellness transformation inspired her to share this gift of yoga with others. She traveled across the world to learn Yoga from traditional Yogis in The Himalayas, Thai Yoga Massage in Thailand, and Welleness Coaching at The Mayo Clinic. While Kim leads Retreats and Workshops worldwide, she has made Denver her home base for the past 11 years and is in integral part of the Denver Yoga Community.

Kim is an accomplished Professional Yoga Teacher. She has been practicing Yoga for the past 9 years, and has been teaching full-time for the past 4 years. She leads classes, workshops, and international and local retreats. Her personal practice is beautiful to witness, weather in person, or on Instagram; only to be one-up-ed by the experience of being in her class and experiencing the energy she transmits to every one of her students.

Kim's classes combine yoga postures, sacred breath work, ancient meditation techniques, and modern astrological themes. Her classes are designed to inspire each student to cultivate feelings of self- love, gratitude, support, balance, and Unity. She does this by integrating intention, breath, affirmations, asana, creative visualizations, stress release, deep relaxation, and Loving Touch.

Kim is the founder of Life in Perfect Balance, The Urban Enrichment Collective, and The Peace Warrior Movement. She teaches yoga, TRX, and cycle classes at TruFit Downtown, Mudra Yoga Studio, and works with the population at an Intensive Outpatient Mental Health Facility. Kim also offers Restorative Yoga with Loving Touch, Yoga Nidra with Sound Healing, Donation Based Yoga Classes, Wellness Parties for Children, Teens, and Adults, as well as various Bodywork Practices, Spiritual Healing and Spiritual Hygene, Life and Wellness Coaching, and Private Yoga Instruction. Please check outwww.lifeinperfectbalance.com, or www.facebook.com/UECDenver, for more information.
Kim on the Big Red Bug by Walter Productions at Sonic Bloom Last Year. Kim has Volunteered for Bloomong Footprint the past two years.
Kim has been Curating and Leading Local and International Retreats in Bali, Thailand, Keystone, and Cretonne Colorado.
Kim is also an Inspired Healer: Weaving Yoga, Wellness Coaching, Chinese Cupping Therapy, Women's Wellness, Plant Prayers, and Energy Work.
Kim also Leads Ski-Bike Adventures, and Races Down Hill Mountain Bikes!
---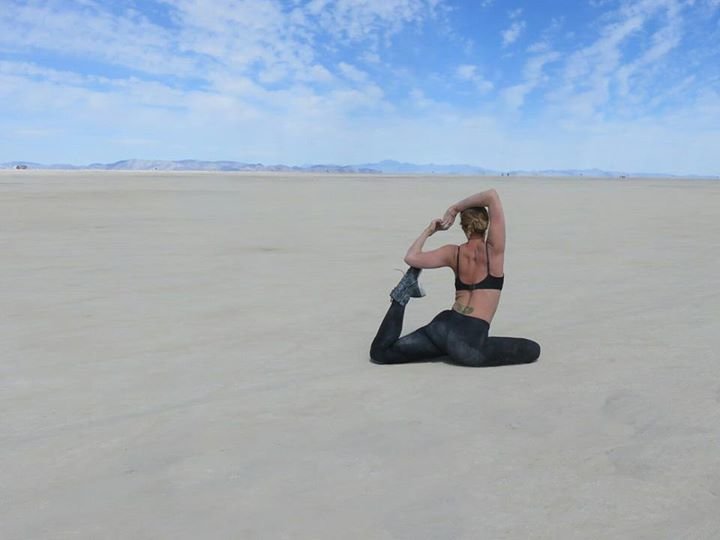 Burning Man Blog
Burning Man represents the complete freedom that we each have to create our own reality! My goal is to share this sacred knowledge of freedom and creation to as many people as I possibly can!
Last year was my first year at Burning Man, I was BLOWN AWAY by all the healing work that was happening there. But (in my experience) a lot of it was focused on "receiving" from a teacher or healer.
I want to bring the POWER BACK TO THE PEOPLE! I want to teach yoga and meditations around SELF HEALING! I want to guide people through an energetic experience SO POWERFUL that they BECOME THE GOD or GODDESS they have always known they are!
By holding space for others to EXPERIENCE THEIR DIVINE MANIFESTOR WITHIN, I want them to step into their own power and begin HOLDING SPACE FOR OTHERS! This includes SHOWING UP AS YOUR AUTHENTIC SELF, and ASKING OTHERS ABOUT THEIR AUTHENTIC DESIRES, seeing the HIGHEST version of each person that we meet, and VISUALIZING PRAYERS FOR EACHOTHER, also envisioning the HEALING OF OUR MOTHER EARTH, prayers for the planet, HEALING OUR WATERS, and meditating on COLLECTIVE CONSCIOUSNESS!
MY INTENTION is holding space for others, and inviting this NEW WAY OF THINKING AND BEING, while on the MAGICAL CANVAS OF THE PLAYA, where people are receptive to new ideas.
One by one we can each use the flame of our own candle to light each other up! I just need to get to BRC, where I can show people how to SHINE SO BRIGHT THAT THOSE WHO ARE LOOKING CAN FIND YOU!
I am a yoga and meditation teacher, I teach the power of self healing. My mission is to reach those who may not find these teachings on their own. I teach in a downtown corporate gym environment and while people come to my classes for fitness, they keep coming because of the shifts that happen internally when they start to use visualization, intention, and start to LIFE LIFE ON PURPOSE instead of on auto pilot.
I also teach at an intensive outpatient mental health facility. I show people who have felt overcome by emotions such as depression, anxiety, or addiction... how to SELF REGULATE. By showing them how they can shift how they feel through breath, posture, and mindset.. in just 1 hour... they can then start to TAKE CONTROL OF THEIR OWN CREATIVE POWER WITHIN!!!
This is powerful work! I am called and blessed to be sharing these experiences with those who need it. I truly believe that I can reach more people who are seeking this kind of work at Burning Man!
Everyone shines their brightest on the Playa, and Im looking forward to SHINING SO BRIGHT THAT THOSE WHO ARE LOOKING FOR THIS CAN FIND IT! I would be ecstatically thrilled to have the opportunity to be there and share this work!
Ugggg, this is the rough part... I am working teaching 20 classes per week (waaaayyy over full time if you include planning and travel time) And still having trouble paying my bills. Yoga teachers are quite overlooked as almost every other service industry includes tipping (what about the yoga teacher who just gave you a thai massage and used expensive essential oils, and even consulted you about herbal remedys, and stayed after class to chat with you?!?!?!? Ya, they are probably making $10/hour when you realize that each 60min class is really 3 hours of work.
I've finally realized that I probably wont be able to make a living teaching like this, and i am bordering on burn-out. So my NEW VISION is to teach at as many festivals as I can, to SPREAD THE WORD AND THE LOVE AS FAR AND WIDE AS I CAN, and to host retreats where I can share a little of that PLAYA MAGIC with those who are called to go deeper! So I'm looking to INSPIRE OTHERS and BE INSPIRED TO STEP INTO FULLNESS. I know that by giving these gifts at BM this year, I will also receive the inspiration and experience to TAKE THIS TO THE NEXT LEVEL personally and collectively.
I am COMMITED to making PROGRESS so that I can BE ABUNDANT IN MY LIFE AND MY CONTRIBUTION to others and to BRC and MY COMMUNITY!!! I am so excited to share in BM on a low income ticket this year, but by next year being able to pay in full! FORWARD PROGRESS!!!! So, while I'm not making enough to pay my bills right now, I know that if I KEEP SPREADING THE MESSAGE, then the $$ will follow soon enough :) I'm sooo excited to share and grow and hold space for others to share and grow!
Namaste,
Kim
www.lifeinperfectbalance.com
www.facebook.com/lifeinperfectbalance
www.instagram.com/lifeinperfectbalance